A Call to Honor Green House Sages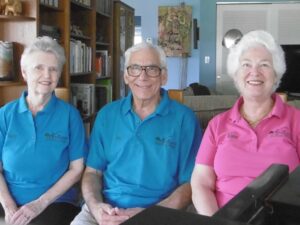 Let's be clear: an important priority for The Green House Project in 2022 is boosting the status of the eldercare workforce and empowering caregivers to provide quality care for elders.
Workforce issues in eldercare are at a critical juncture and it's imperative to rethink how caregivers are treated and compensated. Although a comprehensive overhaul is needed, there are baby steps to take that can help support caregivers on the local level. The GH Sages program is a great example of that kind of reinforcement. Their expertise and wisdom can go a long way to alleviate the stress and overwhelm caregivers are experiencing these days.
GH Sages are volunteers from the local area who serve as coaches and mentors to staff in GH communities. Elders themselves, Sages typically have experience in leadership, counseling, and human resources and develop relationships with residents and staff and provide trusted advice and assistance to caregivers. During a recent focus group with several Sages and GHP senior director Susan Ryan, the Sages spoke candidly about the challenges facing elder communities during the pandemic and offered thoughtful recommendations on how to improve things going forward.
In a nutshell, the Sages are concerned about the mental health of everyone involved – including caregivers who are operating under a great deal of stress, uncertainty, and exhaustion.
Isolation is another hurdle that has created challenges for the Sages during the pandemic. Protective measures such as wearing masks and social distancing make it difficult for elders to hear, communicate and understand caregivers. Given the circumstances, it's been difficult for Sages to adequately support staff and get a sense of how elders are doing emotionally after a loss or health emergency. 
"We've lost the ability to have physical contact with elders and just hold their hand," said Dennis Fitch, a Sage at The Woodlands at John Knox Village in Pompano Beach, FL.
The conversations during the focus group highlighted the need to "reboot" the Sages program, re-educate staff and reinforce the principles of the Green House model. However, refreshing staff knowledge of Green House goals takes time, improved communication, and organization – a tall order given current circumstances, but worth it in the long run.
"We want to be helpful," said Diane Dalsimer, another Sage at The Woodlands.
Strategies honoring the role of the Sages and their expertise are needed, as are techniques to build stronger relationships between sages and staff. Ryan told the Sages the Green House Project is committed to finding creative ways to leverage their expertise to help communities, connect with elders, and reinforce the core values of the GH model. 
The Sages are a treasured resource with much knowledge to share. They represent a small but mighty component in the movement to restructure how we think about and care for elders. Let's recognize and take advantage of this ready, willing, and able reservoir of talent as we transform eldercare.