Let's Elevate Eldercare Together
Nursing homes rarely garner positive attention, but COVID-19 brought the sector into the public eye like never before — bringing more negative headlines but also an unprecedented opportunity for change. Our podcast, "Elevate Eldercare," was created in an effort to bring together thought leaders, activists, and advocates in the field of aging services to foster thoughtful discourse and diverse perspectives aimed at elevating eldercare.
Join Susan Ryan, Penny Cook, Alex Spanko, and other GHP team members every Wednesday for enlightening, provocative, and sometimes uncomfortable conversations. Together, the hosts and guests explore the opportunities and challenges to actualizing a vision for dignified eldercare through the lens of the Green House and Pioneer models.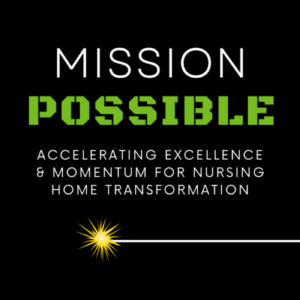 Want more eldercare podcast content? Check out our new show, "Mission Possible," produced in conjunction with the National Consumer Voice for Quality Long-Term Care, AMDA — the Society for Post-Acute and Long-Term Care Medicine, and our colleague Anne Montgomery.
Each week, you'll hear probing interviews with voices from all corners of the eldercare world — from financial leaders to resident advocates to clinicians to residents themselves — about finally translating decades of reports and recommendations into real change.
The landmark 2022 NASEM report on nursing home quality served as the initial inspiration for the series, but the history of eldercare reform stretches back decades. We hope this podcast gives listeners concrete tools to use when working to implement changes in their own communities, and convinces leaders that real change is truly a mission possible.