Be the Disrupter, Not the Disrupted
Central to the mission of The Green House® Project (GHP) is the development of Green House homes that are built in partnership with forward-thinking eldercare providers, developers, and advocates. Since the Green House model's inception 20 years ago, nearly 400 homes have been built in 32 states, with more on the way.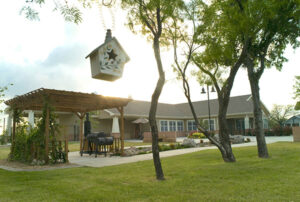 The majority of Green House homes are licensed skilled nursing facilities (SNFs). Some homes offer post-acute rehab while others are assisted living and dementia care settings.
In addition to having an organizational structure that is radically different from other settings, Green House homes are small in scale, self-contained, and self-sufficient, with elders at the center. Each home includes private rooms and bathrooms for all elders, a living room with a fireplace, and outdoor spaces that are easy to access and navigate.
Your Trusted Development Partners
For 20 years, our team has guided more than 80 organizations through the Green House development process. Click here to learn more about how our project coaches can take your project from design to reality.
To schedule a phone call with a Green House team member, contact us here: inquiries@thegreenhouseproject.org.
It absolutely makes sense from a business perspective.
Toni Davis
CEO & President - Green Hill
The only regret that you'll have is having not done it earlier.
Roger L. Meyers
President & CEO - Presbyterian Villages of Michigan
From the very beginning, they were with us every step of the way.
Barry Berman
CEO - Chelsea Jewish Foundation
You can specialize these houses in a lot of ways to suit the needs of your community.
Toni Davis
CEO & President - Green Hill
The Green House homes have impacted our revenue. Unquestionably our private pay census has gone up. Our Medicare census has gone up. And our overall census has gone up. It has a halo effect on every revenue stream you might experience in long-term care.
John Ponthie
Member - Summit Health Resources