Mission
GHP partners with organizations, advocates, and communities to lead the transformation of institutional long-term and post-acute care by creating viable homes that demonstrate more powerful, meaningful, and satisfying lives, work, and relationships.
Vision
GHP envisions homes in every community where Elders and others enjoy excellent quality of life and quality of care; where they, their families, and the staff engage in meaningful relationships built on equality, empowerment, and mutual respect; where people want to live and work; and where all are protected, sustained, and nurtured without regard to the ability to pay.
Now 20 years strong, Green House has transformed eldercare as we know it.
The Green House® Project (GHP) is a not-for-profit organization founded on the belief that everyone has the right to age with dignity. GHP seeks to protect this right by destigmatizing aging and humanizing care for all people through the creation of radically non-institutional eldercare environments that empower the lives of people who live and work in them.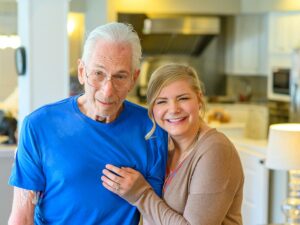 The Green House team is comprised of experts in the fields of aging services, business and finance, communications, marketing, and healthcare. Their many years of experience have resulted in the development of relationships with key thought leaders, policymakers, and other stakeholders in senior living.