20 for 20: Early Research Builds Strong Evidence Base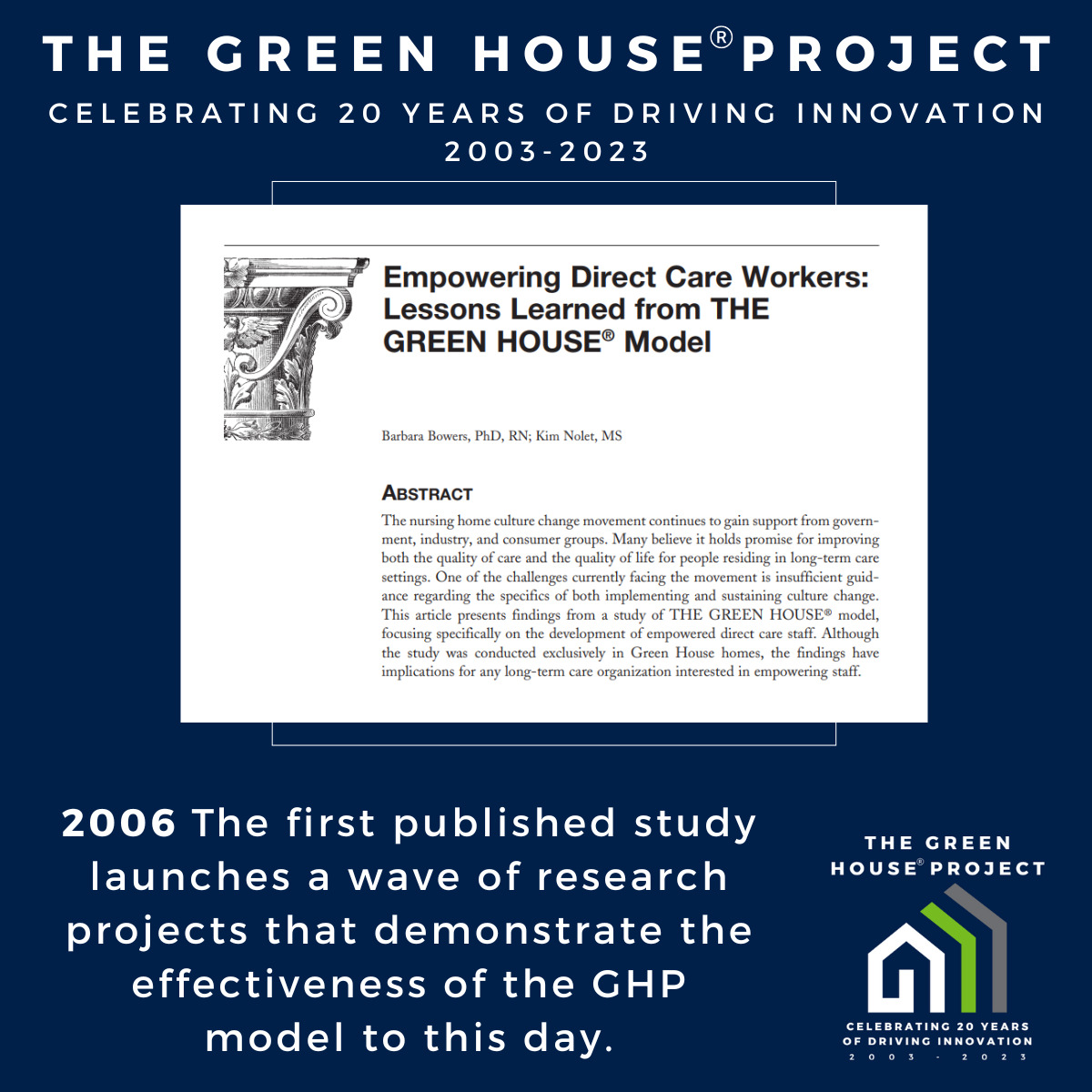 The Green House Project received a significant boost in 2006 when the first academic research into the model's efficacy by Judith Rabig, Bill Thomas, Rosalie Kane, Lois Cutler, and Steve McAlilly was published in The Gerontologist.
The article, "Radical Redesign of Nursing Homes: Applying the Green House Concept in Tupelo, Mississippi," served as the cornerstone of a research base that has since grown to show benefits as varied – and as important – as increased direct care time, greater family satisfaction, reduced health care spending, and substantial protection from infectious diseases such as COVID-19.
Even at that early date, the authors identified several benefits that continue to set Green House homes apart from their traditional peers:
New working relationships were forged, marked by a more mutually respectful attitude between nurses and unlicensed staff. Over time, many nurses, therapists, and physicians on the clinical support team have come to "own the model" and be enthusiastic proponents.

Staff absenteeism and turnover in the Green House is lower than that in the sponsoring nursing facility or other nursing facilities operated by MMSS, and no transfer-related injuries to workers have occurred. Most Shahbazim embrace the empowerment of their roles and visibly demonstrate increased skills, self-esteem, problem solving, and self-possession.
Kane and colleagues would follow up with an analysis of superior family satisfaction in Green House homes two years later. Explore the full history of research into the Green House model over on our research page, and check out this overview for more studies on the efficacy of elder-directed care principles writ large – including Pioneer Network's longstanding work to transform the culture of traditional nursing homes and senior living communities.
The Green House Project turns 20 in 2023. Follow our 20th anniversary celebration at www.thegreenhouseproject.org/20for20.