20 for 20: Building the Best Life for People Living with Dementia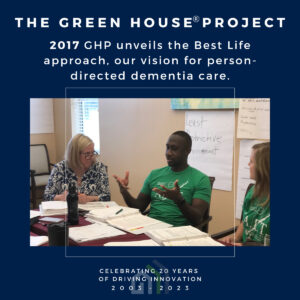 Even as public awareness of dementia has grown in recent decades, care for people living with dementia has remained largely static. At best, in many settings, caregivers see elders living with dementia as a cluster of symptoms and behaviors to manage; at worst, elders are inappropriately prescribed powerful antipsychotic drugs, which serve as chemical restraints on their dignity and freedom.
GHP's Best Life memory care approach, which debuted in 2017, offers caregivers a person-directed alternative to the failed and dangerous strategies of the past. Best Life focuses on elders' retained abilities and essential humanity, based on the knowledge that behaviors we may interpret as "aggressive" or confusing are actually expressions of the same human wants and needs that we all share.
The Best Life approach strikes a balance between prioritizing safety above all other factors — a mindset that, when applied too rigidly in the past, has justified everything from physical restraints to lockdowns — and accepting what we call the dignity of risk, the idea that everyone has the right to take small chances in order to live life to the fullest.
Everyday life is full of risks for people of all ages, from the potential for a car accident on the ride to work or long-term health effects associated with eating an unhealthy meal, but we generally respect the right for people of make those choices for themselves. That shouldn't change as you age, and the Best Life model encourages caregivers and people living with dementia to find their own balance in the dignity of risk.
For more than five years, the Best Life approach has improved the lives of elders, caregivers, and families alike. Click here to learn more about how Best Life fits into the operations of nursing homes, assisted living communities, and other care settings.
Just tuning into our 20 for 20 celebration? Head over to our main 20th anniversary page as we count down the top 20 milestones during our first two decades, and share your Green House memories on social media with the hashtags #GHPat20 and #20fo20.