Green House Development Consulting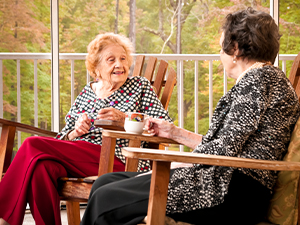 The Green House Project (GHP) has garnered a great deal of positive media attention since the onset of the pandemic, and for good reason. Ongoing research across the country has shown that Green House skilled nursing homes have a significantly lower rate of COVID cases and deaths among elders than traditional nursing homes.
In addition, the model's design and philosophy of care have been touted as exemplars for providers to consider in their efforts to ensure that the tragedy of COVID does not happen again to nursing home residents. This has led to robust interest in the development of Green House homes.
We understand that the Green House journey may seem complex at first, and that every organization comes to the table with its own unique set of questions and concerns — along with a variety of stakeholders whose opinions must be considered.
That's why we tailor our consultation services to the needs of each potential partner: No matter where you are on the Green House transformation journey — from simple curiosity to having the land in hand, ready to break ground — our team is here to provide the advice, support, and historical performance data you need to move ahead confidently.
Our consultation services include:
Readiness checklists
Business planning
Key consumer messaging resources
Design recommendations
State-by-state regulatory analyses
Research on staffing and clinical outcomes
Financial feasibility modeling
And much more
Reach out to one of our experts today to start the consultation process. We can't wait to plant the seeds of a Green House community and watch it grow together!
Contact us HERE for more information. 
The Power of the Project Coach
Think a Green House development is too complex? Our project coaches have helped more than 80 organizations to build nearly 400 homes all across the country.
Design questions, regulatory reviews, workforce education, hiring, marketing — the coaching staff at GHP has seen it all and can use their experience to help turn any Green House plan into reality.