20 for 20: PACE Partnership Innovates Eldercare in Detroit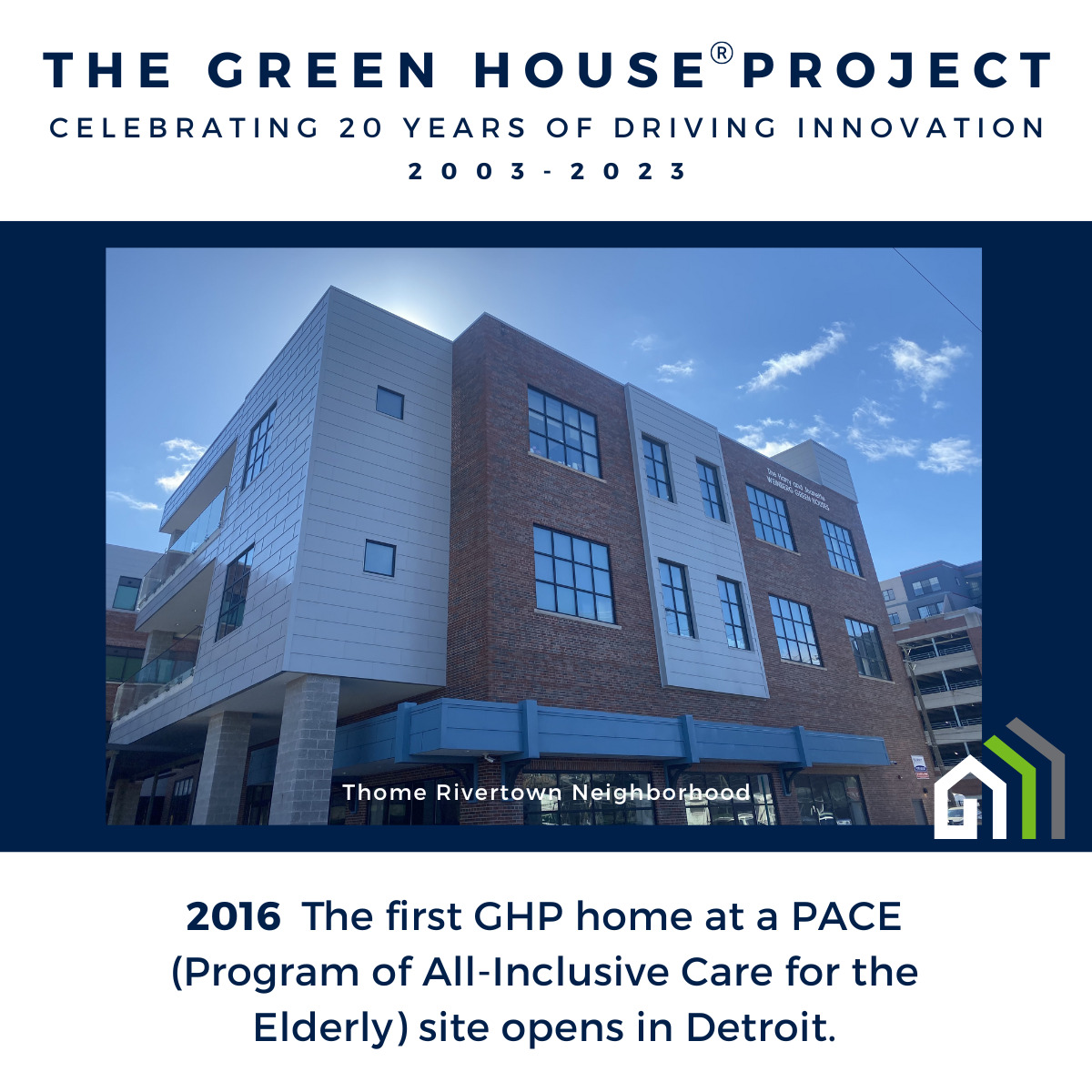 GHP is known primarily for our flagship small-house alternatives to traditional nursing homes, but that's only one part of our mission. We believe that every elder deserves to receive empowering, high-quality services and supports in the setting of their choice — whether that's in a communal care setting, at a private home, a community center, or anywhere in between.
That's why we're so proud of the Thome Rivertown Neighborhood in Detroit, a unique partnership between Presbyterian Villages of Michigan and PACE Southeast Michigan where the first Green House home connected to a PACE center opened in 2016.
The community features affordable independent living apartments, a Green House home, and a thriving PACE center that serves the wider Detroit elder population.
The Program of All-Inclusive Care for the Elderly (PACE) is a federal initiative aimed at supporting elders in the community instead of nursing homes, providing Medicaid funding for a variety of home- and community-based services. Thome Rivertown's PACE center offers daily activities, health care services, in-home personal care and meals, and much more, all overseen by an interdisciplinary care team that creates personalized suites of services for each beneficiary.
Thome Rivertown is a shining example of how providers can use existing care models to create something truly different — and better — for elders. We believe that there's no one-size-fits-all solution for fixing our broken eldercare system: While many elders prefer to remain at home to receive care and supports, some people may feel isolated living alone and thus thrive in a communal care setting. Still others benefit from a mixture of the two, maintaining a private home but accessing activities and services at a nearby PACE center. 
Every elder deserves to age in the way that makes them feel most comfortable and empowered. By redefining eldercare as an interconnected neighborhood of services, Thome Rivertown is doing just that for the people of Detroit.
Just tuning into our 20 for 20 celebration? Head over to our main 20th anniversary page as we count down the top 20 milestones during our first two decades, and share your Green House memories on social media with the hashtags #GHPat20 and #20fo20.