20 for 20: GHP Hits the Podcast Airwaves with "Elevate Eldercare"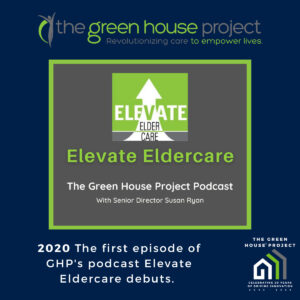 As with every other organization in the eldercare space, the COVID-19 pandemic presented the most challenging operating environment in our history.
Isolated from our partner communities and working over Zoom like the rest of the world, GHP launched the "Elevate Eldercare" podcast in 2020 to make connections and share best practices during the pandemic. We hope the series provided even a small lifeline for providers, caregivers, family members, and residents of long-term care communities during the darkest hour for elders in the U.S. and around the world.
While the worst days of COVID are thankfully behind us, "Elevate Eldercare" continues to bring insightful and inspiring interviews to listeners each Wednesday, with nearly 200 episodes in our back catalog and almost 50,000 total downloads since its debut. Our goal is to both amplify the voices of long-term care changemakers and provide an ample evidence base for policymakers and leaders to draw upon when tackling our broken eldercare system.
If you're not subscribed already, head over to the podcast page to listen to an episode and find our feed on the podcast service of your choice. We're already looking forward to the next 200 episodes, so there's never a bad time to start.
Just tuning into our 20 for 20 celebration? Head over to our main 20th anniversary page as we count down the top 20 milestones during our first two decades, and share your Green House memories on social media with the hashtags #GHPat20 and #20fo20.