Joan Lunden on Planning for the Future and Finding Resources for our Elders
The American Society on Aging's bi-monthly newsletter, Aging Today, interviewed Joan Lunden about her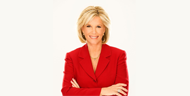 work with A Place for Mom and the need for having a plan in place for your aging parents. Lunden uses her platform as former Good Morning America host to advocate for senior care.
Aging Today asked Lunden about her mother and the obstacles she faced while caring for her:
I was so unprepared, and had no plan in place. I'm sorry to say that I think [that's] typical. It's just part of human nature—we want to think of ourselves as kids and our parents as in charge, impenetrable decision makers. But there comes a time when they're not. … The day you have to become a parent to your parent is unnatural, and uncomfortable. You don't want to burden your parents by asking what their plans are for later life, you don't want to be presumptive or make them feel awkward, but if we don't ask, [their care] might financially devastate our own family. And our parents are reluctant to answer, which is also part of human nature because it represents their mortality.
It is important to establish a plan for the elders in our lives, so the people who mean the most to us are taken care of in a healthy setting. Green House homes offer home for life in an empowering environment so that our loved ones experience meaningful life.
Click here to read the full interview.