Upcoming Training Dates
LinkedUp hosts regular virtual and in-person education courses for new and existing team members in Green House homes.
Click below for an interactive calendar of our 2023 classes with links to register, or keep scrolling to learn more!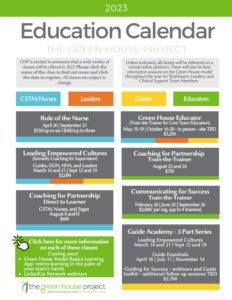 Click the dates to register. All classes virtual except those marked with an asterisk (*), which are in person.
Role of the Nurse: April 20 | September 21
Leading Empowered Cultures (formerly Coaching for Supervision): March 14 and 21 | September 12 and 19
Coaching for Partnership — Direct to Learner: August 8 and 15
Green House Educator*: May 15-19 | October 16-20
Coaching for Partnership — Train-the-Trainer: August 22 and 24
(Completing Coaching for Partnership —Direct to Learner is a prerequisite for this course)

Communicating for Success — Train-the-Trainer: February 28 | June 20 | September 26
Guide Academy — Three-Part Series: Register for all dates here
1. Leading Empowered Cultures: March 14 and 21 | September 12 and 19
2. Guide Essentials: April 18 | July 11 | November 14
3. Guiding for Success: Webinars, toolkit, additional follow-up sessions TBD
Creating Leaders
Comprehensive education is essential when creating a deep and sustainable culture change.
The innovative Green House education classes develop coaching leaders and empowered staff with skills needed to embody the Green House core values to support and sustain the model.
Green House signature classes are offered throughout the year in both in-person and virtual formats.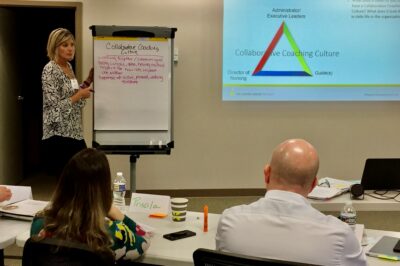 Education Guide
Not sure where to begin? Click the image for a full breakdown of Green House education programming!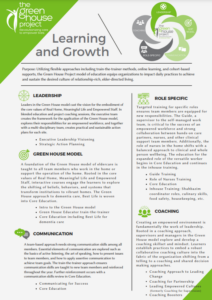 Find out what's included in our Green House classes!
Stay tuned for more information on the following: