Strengthening Team Collaboration
The Green House Guide/Educator/Nurse Connection Group provides an opportunity to connect with colleagues who work in Green House homes or are on a Cultural Transformation journey. The monthly calls tackle relevant issues and best practice sharing, with guides, educators, and nurses encouraged to discuss their biggest challenges and ever-evolving best practices.
It's also a great place to celebrate successes and triumphs, providing others with hints and tips on maximizing the Green House model to positively impact the lives of the elders we serve.
Past meeting topics include:
Reopening and visitation

Employee breaks

Most frequently cited F-tags 

Workforce recruitment and retention

Coordinator roles

Supporting elders living with dementia in Green House homes
To learn more about the connection group or to be added to the Guide/Educator/Nurse Networking Call mailing list, please contact inquiries@thegreenhouseproject.org.
Join the Conversation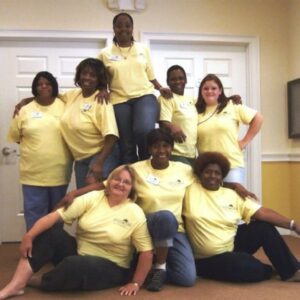 Additional Resources
Micro-Learning Audio Clips
The Green House Project, working collaboratively with the Colorado Dementia Partnership Group, created a series of micro-learning audio clips from the "Elevate Eldercare: Rise Above the Chaos" webinar series.
These 11 YouTube audio clips, ranging from two minutes to seven minutes provide an excellent teaching tool for Green House educators, along with two accompanying one-page documents.
Listen to the Series on YouTube
Download the One-Pagers (as a single PDF)
Resource Library
In our LinkedUp Resource Library, you will find resource documents and archived webinars to support you in the various areas of Green House implementation and sustainability. These resources are created or vetted by The Green House Project.
Green House Education
Visit our Education page to learn more about Green House Signature Classes and upcoming webinars, including class descriptions and upcoming scheduled events. You can also find a rich array of educational resources, such as Coaching Boosters and Encore Videos.