Highlighting the Green House Project Team: Mary Hopfner-Thomas, Project Manager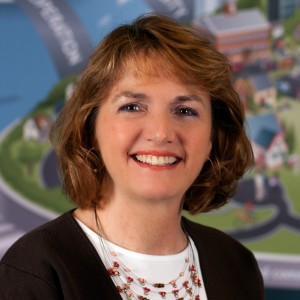 As the saying goes "when one door closes—another will open for you."  That was certainly was the case for Mary.  After 19 years in corporation communications, a company merger meant a large scale layoff, and sent Mary in search of a new career opportunity.
Working with Elders had always interested her, but she had no idea that interest would translate into a new career track and a decision to return to school and obtain her Masters degree in the Management of Aging Services.
Mary began her journey with the Erickson Retirement Communities in a   variety of positions within the Resident Life Department.  She successfully led a number of initiatives for the organization—from working at the grassroots level with volunteer community residents on in-house television productions to serving as the community, stakeholder and customer interface in Erickson's new Retirement Living TV (RLTV) cable television venture.  In her role with Community Resources, she served as the Elders' primary contact for the creation of new activities/events and organizations.  She worked with elders living in independent, assisted, and skilled nursing.  Mary developed programs within the Erickson CCRC as well as outside organizations, always looking for new and creative opportunities for the Elders.  During her tenure with Erickson, Mary was determined to further her knowledge of Elders, and went back to school.
Today, as a Project Manager for THE GREEN HOUSE ® Project, Mary is excited to be part of the team and share her knowledge of the model and support current adopters.     
9 years in aging services
M.A. Management of Aging Services, University of Maryland Baltimore County (UMBC)
CCRC community based TV station – teaching Elders to operate studio cameras, audio and editing equipment.
Planned, coordinated and executed marketing events to promote RLTV
Served as primary contact for Elders when creating new activities/organizations at the Erickson CCRC – Greenspring in Springfield, Virginia
Trained Eden Associate
 In addition to her passion for working with Elders, Mary enjoys sewing (baby quilts), cross-stitch, running (completed 3 Marine Corps Marathons) and reading good fiction.