A Memorable Welcoming Ritual Creates Warm Feelings for Elders and Staff

Jemi Mansfield is the Guide for The Green House homes at Cedar Sinai Park, and the Director of Spiritual Life for the organization. Cedar Sinai Park opened their first Green House home in July 2016, and the self managed work team created a beautiful welcoming ritual to make sure that the elders felt special and loved as they moved into their new home.  The below story is an account of what can happen when a team is empowered to make decisions that bring value to their role, their home and those whose lives they touch.  
Right from the start, the self managed work team (called shahbazim) in our Green House home knew they wanted to have a small gift waiting in the bedrooms as the elders moved in – something special and personalized to really make it feel like home. Jane, a shahbaz,  recalled that when she and her husband went away for their 40th anniversary the hotel surprised them not only with champagne and


chocolates in their room but also a banner hanging in the lobby. "It was unexpected and so touching," she said. That and similar experiences shared by others laid the foundation for a gift bag filled with goodies awaiting residents. A list of personal care items was compiled: shampoo, lotion, toothbrush and paste, shaving gear for the gents, etc. – and the Shahbazim took off on an impromptu shopping trip to Dollar Tree, which was a highlight for Carol during the practicum weeks. "I liked that we worked together to plan the list and then shop," she said. "Nothing went into the basket that we didn't all agree upon – a real team effort." They also bought welcome cards, which were personalized for each resident and signed by the entire team. On July 25th, move-in day, each gift bag was festooned with a cheery balloon and placed in a prominent spot alongside an African Violet plant for each resident: a reminder of the roots of the Eden Alternative to bring living things into each home.
Everyone knew that the goodie bags were going to be a hit, but the star of the welcome gifts is really the blanket. Jane had hit upon the idea during a brainstorming session – that each resident should be given something uniquely theirs to keep and enjoy in the house. She suggested a crocheted lap blanket, made by volunteers. The group jumped on the notion immediately but acknowledged that, at less than two weeks to opening, they faced a lack of time to pull together a project of this size. Nicole, a member of the self managed team,  mentioned that her son, who has autism and touch sensitivity, has a favorite type of blanket that she buys at Costco. "It's beyond soft," she explained. "It offers him comfort and warmth, and that's what we want our residents to experience." She brought in a sample the next day, and the group of Shahbazim were sold: it truly was the softest blanket in the world.

 The finishing touch was to personalize the gift. Each resident's blanket was embroidered with his or her first name and the date of move in: July 25, 2016. The blankets were presented to the elders by the Shahbazim at the first dinner, as they enjoyed "convivium" (good food with good company) around the big table where meals are served together. Tony, a shahbaz,  created a lively atmosphere as he led all in a boisterous round of the "Name Game", welcoming each elder to their new home.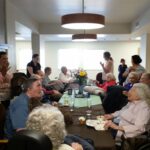 As new residents eventually move in, they will receive their own blanket, emblazoned with their name and move-in date to denote their place in the household. As Alisa, another shahbaz, pointed out, "This is a fresh start for our residents. A new setting, a new chapter, a new home. It's right that they should start this chapter with something new and truly theirs."
In the days that followed, we received a sweet note from Maureen, whose sister is among the first residents (the Alpha House Twelve, we lovingly call them). The note reads, "To all you dear people who gave Pam such a wonderful welcome to her new home. Last Monday, July 25, was a red letter day which we will always remember when we look at her beautiful new blanket and all the lovely bag of presents, card, balloon and flowers. Thank you from the bottom of my heart for all you do for Pam. You are truly wonderful!"
Learn more about Cedar Sinai Park>>